Sheep's Milk Products
Sheep's milk is higher in butterfat, calcium and protein than cow's or even goat's milk, yet is lower in saturated fat. This nutritious milk is an option for many people who are lactose intolerant. The taste is richer and creamier, which is also apparent in sheep's milk food products.
Sheep's Milk Cheese
Homestead Farm's cheese is made from farm fresh sheep's milk and other top quality products. Some of the more popular cheese flavors are blue cheese, gouda, and apple-smoked gouda.
Sheep's Milk
Lotions & Creams
Homestead Farm lotions and creams are made of top quality natural oils and farm fresh rich, thick sheep's milk in a variety of appealing scents. These quality skin care products include some ultraviolet protection.
Sheep's Milk Soap
Soap from Homestead Farm is made of top quality natural oils and farm fresh sheep's milk. Soap of various gentle scents are available, as well as an unscented option. A variety of molds are used to shape the soap.
Sheep's milk used in skin care products offers unique benefits.
The handmade Homestead Farm skin care products are based on sheep's milk, which is naturally beneficial to skin by helping to remove dead skin cells while holding moisture in, and assisting with sun damage while also providing some natural sun protection. Milk protein has also been identified as containing functional anti-microbial and anti-inflammatory characteristics.
The end result is skin feeling soft and smooth, with a firmer and hydrated appearance.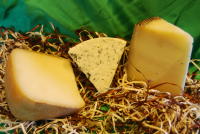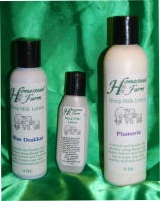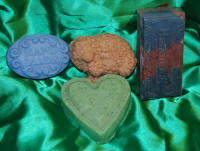 These handmade sheep's milk products can be purchased through the store link. Limited availability.